Removing bees from electricity boxes
We seem to be removing a lot of bees from electrical boxes lately so we thought that we would share some of this with you.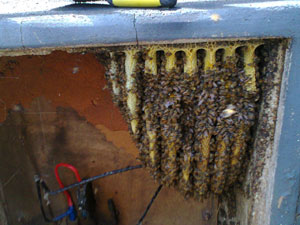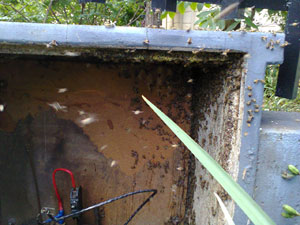 The electricity box on the left was on the boundary wall and clearly has a well structured bee hive with plenty of comb. It turns out that there was very little honey but this just means that the queen was very busy laying eggs. Fortunately the hive had not grown too large, otherwise the comb would have encased the wires and that would have been a little more difficult to remove. As usual, you are welcome to copy images from this site. Click on the photo of the bees in the electricity box to view a large photo. On the right is the photo after the comb and most of the bees have been removed, all that is left to do is catch the few remaining bees.
Having access to your electricity box may become necessary at some point and having bees in the box will present a problem if not a danger.
Click here to have one of our experienced bee removers to catch your bees and safely relocate them.
Call us now on

072 596 8299
Some photos related to bee catching and bee removals.
The dangers of allowing bees to remain in an electricity box
Bees are generally non agressive. But they need to be left alone to do what they are doing, and if they are harassed or feel threatened in any way they will react aggressively and sting the perpertrator. But by leaving the bees to continue building their hive in the electricity box you may be endangering others. Wax is flammable and the expansion of the hive may put pressure on the cabling inside the box and cause electrical outages or surges which could have negative repercussions on the recipients of the electricity.
If possible have the bee remover switch off the current running to the box before he begins removing the bees and advise people in homes and buildings nearby of what is happening.
This page was last updated on 24 November 2014.