The Job of a Bee Keeper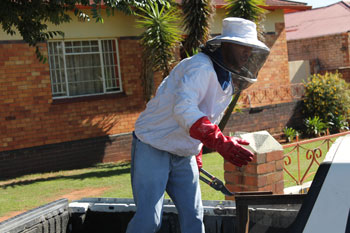 The role beekeepers play is maintaining and tending after bee colonies. This involves creating the living spaces for them (often constructing the structures themselves), managing the health of the colony, harvesting their honey, and helping bees who are sick.
There is also a lot of behind-the-scenes work that beekeepers engage in. This includes learning and researching the bees instincts and behaviour in order to provide the optimal conditions for the bees. Some beekeepers also do talks at schools, raising awareness of bees and their importance in our ecosystem.
In addition to caring for the bees and playing a part in informing the public of the importance of bees, beekeepers often play a vital role in removing bees that have created a hive on someone's property. Beekeepers are able to safely remove the bees and relocate them. Often beekeepers will keep the colony themselves. When it is not possible to do so safely, they refer the task to pest control, but generally, they are the first source for people or businesses needing to get rid of bee hives.
Some beekeepers who have vast amounts of experience and knowledge, go on to become official bee inspectors. These inspectors advise local beekeepers when bees have certain illnesses and help advise and take action to prevent a colony infecting and harming other bee colonies in the area.
Beekeepers also have an important role in agriculture and farming. Beekeepers will organise with various farmers to take their hives to the farms at certain times of the year. The bees help pollinate the produce. This relationship benefits both the bees and the farmers. The logistics involved in looking after bees and hiring out colonies to farms can be quite complex, as beekeepers can have anywhere from 40 to well over a hundred bee colonies.
Call us now on